From the moment when it all started, the inhabitants of Beuil have kept a taste for welcoming visitors and developing friendly relations typical of a genuine mountain village.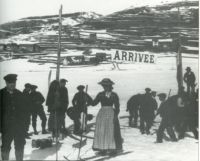 The launching of winter sports
Men wearing ties, ladies wearing hats and elegant, though heavy, skirts, all of them on skis, and Chasseurs Alpins (mountain infantry) wearing their bright uniforms, that was in March 1910 when the Alpes Maritimes Ski Club launched its first competitions : speed competition, cross-country, ski-jumping and sledge competitions judged, or not , according to categories, such as soldiers, men, women, children. Skiing was new, and so was Beuil as a winter resort. Both became most successful.
Skiing at Beuil in the thirties : "click here"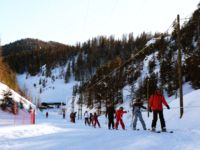 Downhill skiing
Ski runs, starting at the Condamine or, higher up, at Les Launes, are superb slopes against a background of larch trees, and link up with the skiing areas of Valberg, creating the Beuil-Valberg domain, with ski runs covering 130 km ( 85 miles), boasting no fewer than 22 ski-lifts giving on to 52 ski runs, with 6 black ones, 22 red ones, 13 blue ones and 11 green ones.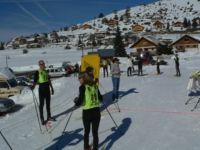 Cross-country skiing.
Cross-country skiing is an activity which brings you close to nature. Originating in Scandinavian countries, it is a complete physical activity which offers many possibilities on the many tracks prepared with special attention given to the lie of the land. It is the largest area for cross-country skiing in the Alpes Maritimes.
Three tracks are waymarked:
– the La Sagne green track: a small flat circuit with no difficulty at all, ideal for beginners.
– the Cumba Clava red track: a nice one-mile loop through a forest of larch trees, with no special difficulty.
– the "Plateau St Jean" red track: a magnificent 8-mile track which takes one to the flat stretches of St Jean and its 360° panorama.
These tracks are marked and kept up regularly for everyone to practise the two kinds of cross-country skiing techniques: the alternating step and the iceskater step. Equipment can easily be rented at Beuil.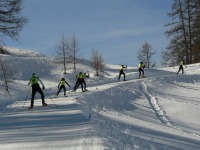 One of the best known sports. All the inhabitants of Beuil remember how
they used to pull their sledges at the end of a rope after school at the first snowfall ! The Condamine site is the place where children as well as adults can enjoy downhill speed on sledges.
Walking with snowshoes is the typical pleasure one can take in groups or as a family on vast stretches of immaculate snow. So, if you like mountains, the snow and walking, let yourself be tempted to venture on the circuits of Beuil:
– blue track: discovery
length: 4,3 km (about 2,5 miles)
ascent: 150 m. (450 ft)
duration : about 2 hrs
Departing from La Condamine, you'll enjoy a magnificent view of the village and Mount Mounier behind.
– red track : Chapel St Jean Baptiste (Saint John the Baptist Chapel)
length: 12 km ( 8 miles )
ascent : 330 m. (1000 ft)
duration : about 5 hrs
Starting from the Condamine, along a waymarked track, you will cross the hamlets called La serre and Bergians Soutran, then cross a splendid forest of larch trees before reaching the flat expanses of the Plateau Saint Jean where you overlook the Gorges du Cians and can observe animal tracks all the way. Itineraries are waymarked but may be tricky in places. Safety is your own responsibility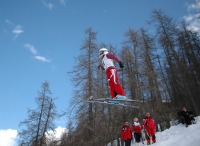 Ski jumping
As early as 1909, the Chevalier de Cessole was convinced of the wonderful
location and lay-out of Beuil and organized the first skiing competition at Beuil in 1910, which ended with two tests, one of styleskiing and the other of ski jumping.
In 1930, the Condamine ski-jump was inaugurated. In 1937 it was replaced by the Olympic ski-jump at les Launes, used for the last time in 1996 on the occasion of the European Ski Jumping Championships.