Hiking
Hiking is an open-air activity for both adults and children. Not only does it have physical virtues, but it is also a way to go back to basics intellectually and spiritually. In that respect, Beuil has a lot to offer, a mosaic of gently sloping pastureland, green stretches of fields for sheep and steep paths for chamois.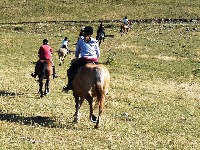 Horse riding
From one-hour rides for beginners to rides lasting several days for the most experienced riders, come and discover the Cians on horseback.
Children's initiation to horseriding with poney rides.
Come and discover our mountains with our donkeys and poneys ready to carry your picnic and young children safely.
Information : 04 93 02 63 84 ou 06 07 74 19 70. open all year round.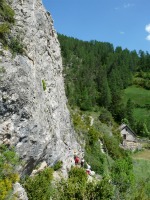 Climbing
In the Charrier area you will find natural climbing sites.Sites are classifed from 3 to 6 and are ideal for families.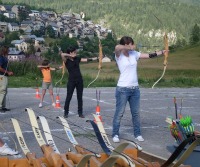 Archery
In the Summer, the Condamine archery stand welcomes you every day to teach you archery. It is an activity both for children and adults in which progress is fast and very stimulating.
Supervised by a ministry-approved instructor
From 10 to 12 a.m. and 4 to 7 p.m.
Information : 04 93 02 32 58

Tennis
Two tennis courts at La Sagne, Les Launes