Ravioli
"Capounes"
Knuckle of ham with Beuil lentils
"Ganses" (doughnuts)
 RAVIOLI
Ingrédients :
Pasta:
500 g flour
1 egg
1 /2 glass water
2 tbs olive oil
Filling:
1 onion
Leeks or Swiss chard (or other greens)
potatoes
salt and pepper
Walnut sauce:
1 large bowl of shelled walnuts
1 clove garlic
Salt and pepper
a few tablespoons of the cooking water from the ravioli
Preparation:
Fry to brown the finely chopped onion and add the greens. Boil the potatoes, drain and mash. Mix together and season.
Prepare the pasta by adding the flour gradually to the other ingredients to make a soft elastic dough. Cut off lumps of pasta dough, roll into lengths and cut into dice. Flatten each piece, place a little filling on it and fold into shape.
Bring a pan of water with a few slices of potato to the boil; when the water is boiling and the potatoes cooked, add the ravioli. When they return to the surface they are ready to serve.
Make the walnut sauce by crushing the walnuts with the seasoning into a smooth paste, and adding a few tablespoons of the cooking water. Serve the ravioli with the sauce.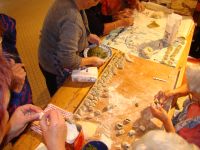 CAPOUNES
Ingredients:
1 kg spinach, lettuce, Swiss chard, nettles or other greens
150 g flour
2 thin slices of lard
1 egg
½ onion
2 tbs olive oil
½ glass water
Preparation:
Blanch the greens, heat the lard in a heavy pan and add the finely chopped onion, then the greens. Make a mound with some of the flour on the work surface and add the vegetables, egg, oil and water in the centre, then gradually add the remaining flour and knead. Roll out and cut into small squares. Cook in boiling salted water until the capounes float to the surface.
KNUCKLE OF HAM WITH BEUIL LENTILS
Ingredients:
1 knuckle of ham
700 g lentils
1 carrot
1 potato
1 stick of celery
1 clove
1 lemon
Preparation :
Soak the ham in cold water to remove the salt, then cook for one hour. In a separate pan boil the lentils for 10 minutes without salt. Add the ham, then the vegetables (stick the clove in the onion), and the juice of the lemon, adding the cooking water from the ham as required. Simmer for between an hour and a half and two hours.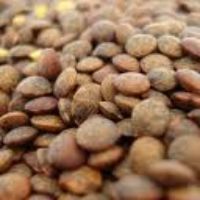 Ingredients:
3 eggs
300ml of double cream or sour cream
½ glass water
5 tbs olive oil
a pinch of salt
1 packet (= 1tbs) of baking powder
flour
orange flower water or vanille essence to taste
Preparation:
Make a mound of some of the flour on the work surface and add the cream, oil, water, baking powder and flavouring in the centre.
Mix together, gradually adding the rest of the flour, then knead the dough. Roll out and cut into shapes as desired. Deep fry the doughnuts, drain and allow to cool. Sprinkle with icing sugar.