Welcome !
Our history-laden village is ideally situated in the heart of nature. It is easily accessible to all and has all kinds of assets to please and charm visitors in all seasons.
When winter is clad in it s while mantle …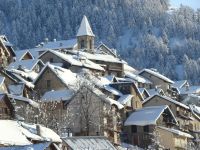 …dreams come true in our postcard landscapes with all the pleasures provided by what we call our "white gold", the snow. Downhill skiing gives to talented skiers the opportunity to test their abilities further, while beginners will find nice and easy slopes where they can rapidly improve, cross-country skiing can be tried by all on the vast expanses of Les Launes with a 12-km-long loop ( 8 miles) and children can enjoy sledging on the gentle slopes of La Condamine.
Then comes the spring …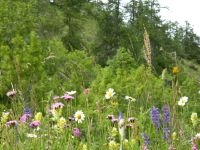 …when the whole of nature is awakened by the Spring sun and fields slowly grow green, marmots clear out of their holes, wild mushrooms ("mousserons" and "morilles"), dandelions and other treasures from Mother Earth appear, ready to be picked, while anglers patiently wait for trout in the bubbling waters of the Cians.
Here is the summer at last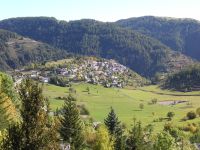 ..a most favourable period for hikers and walkers who can either stroll along easy paths – some of them accessible with prams – or climb Mount Mounier, or take the Chemin des Traverses overlooking the red cliffs of the Gorges du Cians, where, with a bit of luck, one can catch a glimpse of a leaping chamois or a red cricket. Taking your children with you, you can go and pick different kinds of  berries here – marvellous for jam ! – such as bilberries, raspberries and wild strawberries.
Then comes the autumn …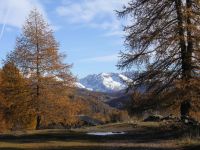 …and its flamboyant colours, the season of the boisterous loves of stags whose physical might is a wonder, the season for collecting mushrooms ("sanguins" as they are called, and  other species ) and, of course, the hunting season, so important for the equilibrium of nature. The natural richness of our region is heightened by the abundance of different species of flora and fauna and by the existence of the Mercantour National Park, allowing all to enjoy the generosity of nature. All this contributes to the reputation of our village.